Auto repairman gives tips on how to lessen the pain at the pump
Posted: May 22, 2015 2:17 PM EDTUpdated: Jun 19, 2015 5:51 PM EDT
By Rob Polansky
To view VIDEO Click Here: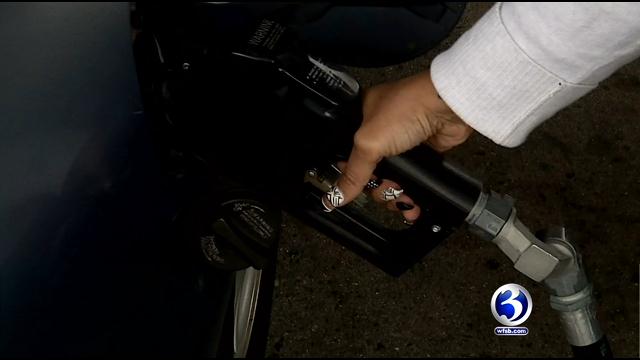 (WFSB file photo)
HARTFORD, CT (WFSB) –
As the mercury rises, so typically, does the price of 
gas
.
However, there are some unique ways to save some money.
"[I spend] usually $50 or $60 depending on where I'm going," said Susan Babineau, a driver.
"At least a $100 plus [for me]," driver Danny Rojas said.
Experts said that price is expected to go up as more drivers
 hit the road.
According to AAA, the average cost of a gallon of regular gas in Connecticut is $2.83. It's one of the highest averages in the country.
The national average is roughly 10 cents lower.
"They're starting to rise again which is a little bit more painful at the pump," Babineau said.
Gas is expected to stay below $3 for the rest of the year, AAA said. Last year at this time, the state was approaching $4 a gallon.
"I'll still get in the car and come to the pump first because I do still want to be out there having fun," Babineau said.
There are some ways drivers can lessen the damage to their wallets.
One is watching what's in the trunk.
"The heavier the vehicle is, the more it takes to propel it," said Rodney Bitgood, of Cromwell Automotive
. "So that's more fuel that you use."
Take out the shovel and winter
 coats. They won't be needed for another five months.
Next, resist the temptation to roll down your windows
 on the highway.
"When the windows are open, that air is being forced into your car and is almost acting like a parachute and slowing the car down," Bitgood said.
Also, slow down.
"The faster you drive, the farther you're pushing the gas pedal down so the more fuel
 you're using," Bitgood explained.
The same goes for speeding up or slamming the brakes excessively.
"If you're pushing the gas pedal down and you're only going from light to light 300 feet and then you're stomping the brakes, you're wasting energy there," Bitgood said.
Drivers should also be aware of when they buy gas. Avoid Fridays or Saturdays. Experts said those are the days they're likely going to see a price increase.
They said that Wednesdays and Thursdays before 10 a.m. are the times when the lowest prices can be found.
At 10 a.m., gas station operators traditionally increase their prices.
Don't forget about discount
 websites like PlasticJungle.com and GiftCardGranny.com. They usually sell gas gift cards for a fraction of the cost.
If all else fails, drivers can do what Babineau does.
"If we have any errands, we try to keep everything centrally located so it's one-stop shopping," she said.
Read more: http://www.wfsb.com/story/29136209/auto-repairman-gives-tips-on-how-to-lessen-the-pain-at-the-pump#ixzz3guUtUQ2o